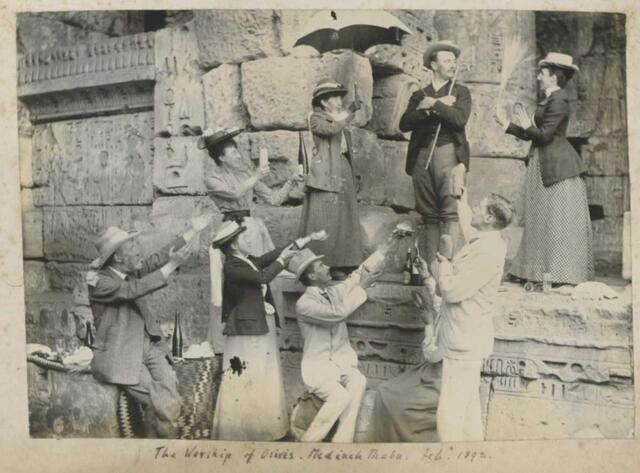 Key Information
Title
ALLENBY, FM Edmund (1861-1936)
Date(s)
1955 (Creation)
1881-1950 (Creation)
Extent
14 boxes or 0.14 metres cubed
Scope and content
Papers relating to his life and career, 1881-1936, including letters to his family, 1890-1922, notably covering his service in UK, 1890-1896, and South Africa, 1899-1902, including operations around Colesberg, Dec 1899-Jan 1900, relief of Kimberley, Feb 1900, Battle of Diamond Hill, Jun 1900, and operations in Transvaal and Orange Free State, 1900-1902, on Western Front, 1914-1917, including the first battle of Ypres, Oct-Nov 1914, Battle of Arras, Apr 1917, and in Palestine and Egypt, 1917-1922, including third Battle of Gaza, Oct-Nov 1917, capture of Jerusalem, Dec 1917, Battle of Megiddo, Sep 1918, and fall of Damascus, Oct 1918; correspondence relating to Allenby's role as High Commissioner for Egypt and the Sudan, 1919-1925, including telegrams exchanged by Allenby and the Rt Hon (Joseph) Austen Chamberlain, Secretary of State for Foreign Affairs, over Nevile Meyrick Henderson's appointment as Minister Plenipotentiary and Allenby's resignation as High Commissioner for Egypt and the Sudan, 1924-1925; manuscript, typescript and printed texts of speeches, lectures and articles, [1929-1936]; newspaper cuttings, 1899-1936, including obituaries of Allenby, 1936; photographs, 1881-1936. Papers collected by Gen Archibald Percival Wavell during the writing of Allenby: a study in greatness (Harrap and Co, London, 1940) and Allenby in Egypt (Harrap and Co, London, 1943) principally comprising correspondence and notes written by Allenby's army colleagues, 1936-1943; notes and letters from Gerald Delany concerning Allenby in Egypt, [1940-1943]; letter from Gen Sir Henry George Chauvel to Director of Australian War Memorial concerning Seven pillars of wisdom by Thomas Edward Lawrence (also known as Thomas Edward Shaw) (Jonathan Cape, London, 1935), 1936, and printed appreciation of Lawrence by Allenby, 1935.
System of arrangement
Arranged in the following sections: personal papers and correspondence; Palestine and Egypt; speeches, lectures and articles; newspaper cuttings; photographs and photograph albums; correspondence received by Wavell during writing of Allenby; material collected by Wavell for Allenby in Egypt, including papers relating to Lawrence.
General Information
Name of creator
(1861-1936)
Biographical history
Born in 1861; educated at Haileybury College and Royal Military College, Sandhurst; commissioned into 6 Inniskilling Dragoons, 1882; served in Bechuanaland Expedition, 1884-1885, and in Zululand, 1888; Adjutant, Inniskilling Dragoons, 1889-1893; served in UK, 1890-1896; Staff College, Camberley, 1896-1897; Maj, 1897; Bde Maj, 3 Cavalry Bde, Ireland, 1898; served in South Africa, 1899-1902; commanded 5 Royal Irish Lancers, 1902-1905, and 4 Cavalry Brigade, Eastern Command, 1905-1910; Inspector of Cavalry, 1910-1914; served on Western Front, 1914-1917; Commander, Cavalry Div (later Cavalry Corps), BEF, 1914; Commander, 5 Army Corps, 1915; Commander, 3 Army, 1915-1917; Commander-in-Chief, Egyptian Expeditionary Force, Palestine and Egypt, 1917-1919; FM, 1919; High Commissioner for Egypt and the Sudan, 1919-1925; died in 1936. Placed
Custodial history
Placed in the Centre by the family in 1976.
Conditions governing access
Open, subject to signature of Reader's undertaking form, and appropriate provision of two forms of identification, to include one photographic ID.
Conditions governing reproduction
Copies, subject to the condition of the original, may be supplied from open material for research purposes only.
Requests to publish original material should be submitted to the Trustees of the Liddell Hart Centre for Military Archives, via the Archives.
Language of material
Arabic
Armenian
English
French
Hebrew
Language and script notes
Mainly English, some Hebrew, Arabic, Armenian and French
Finding aids
This collection level description and detailed catalogue.
Existence and location of copies
Middle East Centre, St Anthony's College, Oxford holds copies of papers relating to Allenby's service in the Middle East.
Related materials
Publication note
The papers have been used by (Robert) Brian Gardner for his biography, 'Allenby' (Cassell, London, 1965), and by Thomas Pakenham for 'The Boer War' (Weidenfeld and Nicolson, London, 1979).
Note
Decorations: GCB, GCMG, GCVO
Alternative identifier(s)
Rules and/or conventions used
Compiled in compliance with General International Standard Archival Description, ISAD(G), second edition, 2000.
Digital object (Master) rights area
Digital object (Reference) rights area
Digital object (Thumbnail) rights area